I am traditionally not a big egg fan.  When I was traveling in Macau years ago, I found that I really liked the mini quiches that were available at the Starbucks in the Wynn Macau.   I had probably never eaten an egg until then let alone a quiche.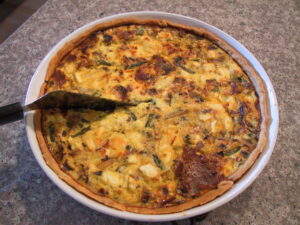 I tend to cook on the weekend for the entire week.   A quiche is a simple breakfast item that I can make ahead and then reheat a serving for breakfast in the convection oven.  This recipe takes a long time to bake and it makes up 8 servings.

MyHealthyVegas Asparagus Mushroom Bacon Quiche
MyHealthyVegas:
MyHealthyVegas
Ingredients
1 refrigerated Pillsbury pie crust (1 crust = ½ of 15 oz pkg)
Pam nonstick Butter Cooking Spray
2 cups coarsely chopped mushrooms
½ cup chopped asparagus spears
6 large green onions slices (white and green portions) (approx. ¼ c)
8 slices fully cooked JennyO turkey bacon, crumbled
10 oz Egg Beaters® Original
½ cup 2% milk
4 oz reduce fat feta cheese crumbles
dash each of nutmeg, thyme leaves, and ground black pepper
Instructions
Preheat oven to 350°F. Unroll crust and place in 9¬-inch white ceramic quiche plate; pierce crust with fork. Bake 15 to 20 minutes or until light golden brown. Remove from oven and set aside.
Spray large skillet with Pam and heat over medium heat. Add mushrooms and onion; saute 3 minutes, add asparagus, dash or so of Thyme and heat 2 more minutes. Remove from heat; set aside. (Drain veggies if lots of moisture.)
Combine bacon, Egg Beaters, milk, cheese, dash of nutmeg and pepper in large mixing bowl. Stir in veggie mixture. Pour into baked crust. Bake 75 to 90 minutes or until knife inserted near center comes out clean.
Cool 10 minutes on wire rack. Cut into wedges; serve immediately or allow it to cool further and store in the refrigerator for up to 1 week.