I received a gift card one Christmas for Williams-Sonoma and used it to buy an amazing kitchen tool.  My Cuisinart Blend and Cook Soupmaker (SBC-1000).   It does more than just cook soup.
To date the best soup that I have made in it is this broccoli soup.   I kept adjusting the recipe each time.   Eventually deciding that adding dried thyme and tarragon were what made it the best.
I have used both fresh and frozen broccoli.   It seems to make little difference.  With frozen broccoli I use a bit more potato  to make it thicker.   Golden potatoes work real well or you can use russets.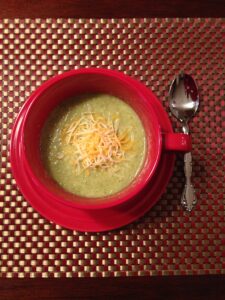 I top the soup with either oyster crackers or more shredded cheese.

myhealthyvegas broccoli soup
Easy to make soup in a blender that does it all or not. Potatoes make if creamy and you do not feel cheated by not adding fatty cream.
MyHealthyVegas:
MyHealthyVegas
Ingredients
2 cups fat-free, low-sodium or sodium-free chicken broth (vegetable is good too)
1 garlic clove
½ small yellow onion cut into small pieces
½ teaspoon dried tarragon
¼ teaspoon dried thyme
2 tablespoons of sherry
½ teaspoon Kosher salt
½ teaspoon ground pepper
4-6 good size golden potatoes or 2-3 russet potatoes, cut into small pieces
1 bunch of fresh whole broccoli (stemmed and cut into small pieces) or 16-oz bag for frozen florets
1 teaspoon lemon
2 ounces reduced-fat shredded cheese of your choice (cheddar, three-cheese blend, etc.)
Instructions
Pour broth into blender jar. Add garlic, onion, tarragon, thyme, sherry, salt, pepper, potatoes and broccoli. Cover and set timer for 10 minutes with temperature on high. (I add the broccoli first and then fill with as many chopped potatoes as will fit. If cooking in a stock pot this would not be a concern. )
If mixture does not boil before the timer expires, adjust the timer and add more time till you get it to boil. Once boiling, stir the mixture for 15 seconds. Turn temperature down to medium and set timer for 30 minutes. Stir occasionally. (I stir every 10 minutes).
When timer expires, add lemon and cheese. Blend on speed 1, gradually raising to speed 3 for 3 minutes, or until completely smooth.
Taste and adjust seasoning as desired.