I LOVE crab and I like to make crab cakes on Sundays so that I have a quick, yummy dinner when I get home from the office during the weekday. The key to crab cakes is certainly the "STAR"  ingredient.   I live in Vegas (we are not near an Ocean) and I am on a single-girl budget.  Fresh crab meat is neither in my budget nor on my grocery list.  I purchase jarred crab claw meat as opposed to canned.  I find it in my meat department at the local grocery.  Enjoy!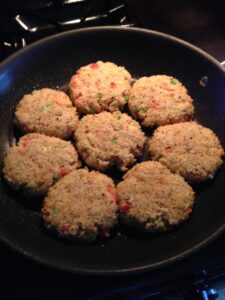 MyHealthyVegas Crab Cakes
The star ingredient is the crab meat so splurge here if you can. These are really tasty even though the overall fat content has been reduced.
Ingredients
1 cup plain crispy Panko® bread crumbs, divided
1 scallion, finely chopped
½ large red bell pepper, finely chopped
¼ cup Egg Beaters® (1 egg equivalent)
¼ cup plain Chobani® Greek non-fat yogurt
1 tablespoon of lite or olive oil mayonnaise
1 tablespoon lime juice
½ teaspoon garlic powder
½ teaspoon tarragon flakes
¼ teaspoon thyme leaves
⅛ teaspoon black pepper
Dash of cayenne (red pepper)
2 – 8 oz Phillips™ Premium Crab Claw meat
Pam® Cooking Spray
1 teaspoon Grapeseed Oil
Sauce (optional)
2 tablespoon light sour cream
1 tablespoon white wine vinegar
2 tablespoon course ground Dijon mustard
¼ teaspoon dried parsley flakes
Instructions
In a large bowl, combine ⅓ cup bread crumbs, scallion, red bell pepper, egg, yogurt, mayonnaise, lime juice, garlic powder, tarragon, black pepper and cayenne.
Fold crab into mixture.
Divide mixture into eight portions and shape into 2 inch balls.
In a shallow bowl, place ⅔ cup bread crumbs. Gently coat each ball in bread crumbs and shape into a ½-in.-thick patty.
Coat a large nonstick skillet with Pam® add 1 tsp of oil and heat over medium-high heat. Add crab cakes; cook 3-4 minutes on each side or until golden brown.
In a small bowl, combine sauce ingredients. Drizzle 1 tablespoon over top of 2 crab cakes when serving.
Notes
A single serving of 2 crab cakes/Weight Watchers® PointsPlus™ Value = 6.
1 tablespoon of optional mustard dipping sauce equals 2.5 g fat, 2 g carbohydrate, 0g fiber, 2 g protein and 195 mg sodium. Weight Watchers® PointsPlus™ Value = 1.
My Recipe Inspiration:
www.tasteofhome.com
Weight Watcher Disclaimer: I calculated the PointsPlus values for all my recipes and they are provided for informational purposes only. This is not an endorsement, sponsorship or approval of any of my recipes by Weight Watchers International, Inc., the owner of the WEIGHT WATCHERS and Points Plus trademarks.Recipe by MyHealthyVegas. Please do not post or reprint this recipe without my permission. If you'd like to feature this recipe on your site, please rewrite the method of preparation and link to this post as the original source.
Nutrition Information
Serving size:
2 cakes/no sauce
Fat:
2
Carbohydrates:
22
Sodium:
206
Fiber:
1
Protein:
11