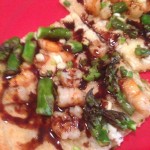 Any kind of pizza is good in my book.   When I started Weight Watchers it was the hardest food for me to limit myself on.   Now days I manage  portion control better so one slice does not seem like such a sacrifice.
I started looking for pizza recipes that were lower in PPVs.   Here is my adaption of Eva Longoria's shrimp flatbread recipe posted on Hungry Girl.   You should really checkout the great recipes on Hungry Girl.  Good stuff!
Most of your time on this recipe is spent in the prep.  There are so many options for toppings!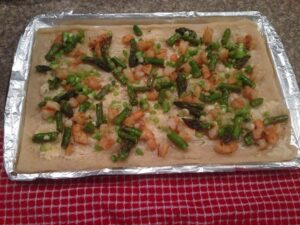 You know it is ready when the cheese is bubbling and you have a nice brown crust.   What this crust and your oven temperature as it has a tendency to get tough if over done.
Add some glaze, serve and enjoy!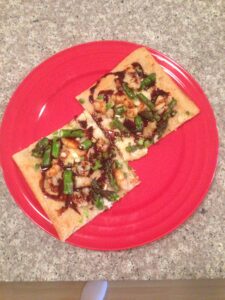 MyHealthyVegas Easy Shrimp & Asparagus Pizza
This pizza is so easy to make. The glaze puts the flavor over the top!
Ingredients
12 medium size frozen raw shrimp, peeled, tails removed, deveined
4 wedges The Laughing Cow® Light Creamy Swiss cheese
¼ c shredded parmesan cheese
1 tube of Pillsbury™ Crust Pizza – Thin Crust
18 baby asparagus tips and stems, cut at an angle
6 chopped green onions
Balsamic vinegar glaze for serving
Instructions
Preheat oven to 375 degrees. Spray a baking sheet with nonstick spray or line with nonstick aluminum foil.
Bring a skillet sprayed with nonstick spray to medium heat. Add shrimp and season with grilled shrimp seasoning*. Stir until shrimp is cooked through, about 4 minutes. Remove from skillet and set aside.
Add cut asparagus tips to skillet after shrimp is removed. Stir and cook for 4 minutes. Remove from skillet, chop shrimp and set aside.
In a small bowl, combine cheese wedges and parmesan cheese. Mix until uniform.
Unroll pizza dough and work it into shape on a 15"x10" baking sheet. Put it in oven for 5 minutes.
Remove pizza bread from oven. Set baking sheet on a burn safe countertop, being careful not to touch the edges of the hot sheet, spread cheese mixture over top of pizza, leaving a ½-inch border. Top with chopped shrimp, green onions and asparagus.
Place baking sheet back into oven and bake until hot and lightly browned, 10 - 15 minutes. Check pizza after 10 minutes and adjust time accordingly.
Remove baked pizza and slice into 6 servings.
Drizzle balsamic vinegar glaze over top of pizza and serve. Leftovers will refrigerate for 2 days. You can refrigerate with or without the glaze on.
Notes
*Grilled Shrimp Seasoning – I personally do not factor this into the nutritional information. I sprinkle the shrimp lightly with seasoning that is already made up. Here is how I make it.
½ tsp kosher salt
¼ tsp garlic powder
¼ tsp onion powder
¼ tsp ground black pepper
¼ tsp chili powder
¼ tsp granulated sugar
1/8 tsp cayenne pepper
1 dash of ground allspice
Weight Watchers® PointsPlus™ Value = 6.
Weight Watcher Disclaimer: I calculated the PointsPlus values for all my recipes and they are provided for informational purposes only. This is not an endorsement, sponsorship or approval of any of my recipes by Weight Watchers International, Inc., the owner of the WEIGHT WATCHERS and Points Plus trademarks.Recipe by MyHealthyVegas. Please do not post or reprint this recipe without my permission. If you'd like to feature this recipe on your site, please rewrite the method of preparation and link to this post as the original source.
My Recipe Inspiration: Hungry Girl: A Fabulous Guilt-Free Flatbread à la Eva Longoria http://greatideas.people.com/2015/04/06/hungry-girl-recipes-shrimp-flatbread/
Nutrition Information
Serving size:
2 slices
Fat:
5
Carbohydrates:
28
Sodium:
467
Fiber:
1
Protein:
15