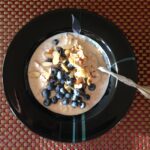 I decided to give instant oats a try.  I see them on everyone's food blog so why not.   After researching many recipes it came down to preference.
Do you like your oatmeal thick or do you add milk to thin it out a bit?   I prefer thick oats so I opted to use greek yogurt for mine.   I did learn an important tip that while the oat to liquid ratio should be 1:1.  It is actually better to add just a little more liquid.
After a quick trip to the craft store to get a couple of mason jars I was ready to give this a try.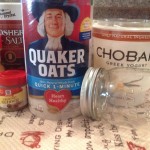 For toppings I went with blueberries and almonds.  This was so easy and so tasty.
MyHealthyVegas's spin on Overnight Oats
Easy to make the night before overnight oats.
Ingredients
½ c Quaker Oats®
½ c Vanilla Chobani® Greek non-fat yogurt
⅛c 2% milk
Dash nutmeg
Dash cinnamon
Dash Kosher salt
Toppings: ½c blueberries and 3 tbsp. sliced almonds
Instructions
Put oats in a small mason jar. Layer in yogurt, milk and seasonings. Stir well enough that all the oats on the bottom of the jar are mixed in. cover and refrigerate.
Mixed oats will keep for 3 days in the refrigerator. You may want to make one and then see how you want to adjust the moisture to your liking. You can use milk, yogurt or almond milk as alternatives.
The next morning open and enjoy. When you add your toppings you may also add more milk.
Notes
Weight Watchers® PointsPlus™ Value = 7. Almonds add another PPV = 5.

Weight Watcher® Disclaimer: I calculate nutritional facts and PointsPlus Values for all my recipes for informational purposes only. This is not an endorsement, sponsorship or approval of any of my recipes by Weight Watchers International, Inc., the owner of the WEIGHT WATCHERS and Points Plus trademarks.[/i]
Nutrition Information
Serving size:
1 mason jar
Fat:
4
Carbohydrates:
42
Fiber:
2
Protein:
17