This recipe is another favorite in my house when I get home from work and want something creative and tasty to eat. I vary the veggies and proteins based on what I have available.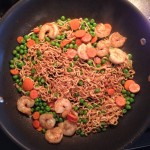 It is a bit of a splurge on the PPV at 11.   Usually means my snacks need to be more conservative throughout the day.  Remember most fruits and veggies are point free 🙂
MyHealthyVegas Shrimp Yakisoba
Easy to make Shrimp Yakisoba
Ingredients
3oz Nissin® Ramen Noodle Soup packet, minus seasoning
8 medium size frozen raw shrimp, peeled, tails removed, deveined
6 scallions, finely chopped (use both white and green portions)
½ cup Egg beaters
¼ cup of frozen edam me
⅓ cup of frozen peas
1 carrot thinly sliced (via mandolins slicer)
1 teaspoon sesame oil
¼ teaspoon chili oil (or to taste)
1 tablespoons low sodium soy sauce
½ tablespoon oyster sauce
Pam® original cooking spray
Instructions
Throw away the seasoning packet from the ramen noodle soup. Cook the noodles al dente. Drain them and rinse them under cold water. Spray noodles with cooking spray and separate them with your hands. Set them aside until ready to use them.
Spray a large skillet with cooking spray; add Egg Beaters and cook, scrambled eggs style. Once complete, put eggs in a dish and set aside.
Spray skillet again with cooking spray, add thinly sliced carrots. Cook for 5 minutes, stirring frequently. After 5 minutes, add edamame and peas to carrots. Cook another 5 minutes, stirring frequently.
Add sesame oil, chili oil, and scallions to above mixture. Add in the shrimp and stir fry for 2 more minutes, stirring frequently. (Do not cook the shrimp all the way through.)
Add soy sauce, oyster sauce, ramen noodles and eggs.
Stir-fry the noodles for 4 more minutes or until the shrimp is well cooked and the noodles are well heated through.
Notes
Weight Watchers® PointsPlus™ Value = 11. This is clearly a meal for that night with someone special if you are following Weight Watchers.
Weight Watcher® Disclaimer: I calculate nutritional facts and PointsPlus Values for all my recipes for informational purposes only. This is not an endorsement, sponsorship or approval of any of my recipes by Weight Watchers International, Inc., the owner of the WEIGHT WATCHERS and Points Plus trademarks.

Recipe by MyHealthyVegas. Please do not post or reprint this recipe without my permission. If you'd like to feature this recipe on your site, please rewrite the method of preparation and link to this post as the original source.

My Recipe Inspiration: This recipe was found on one of my favorite foodie links. I think I love everything on her blog! http://easycookingwithsandyb.blogspot.com/2013/03/shrimp-yakisoba.html. I adapted the recipe above to suit my tastes and availability of ingredients in my area.
Nutrition Information
Serving size:
½
Fat:
18
Carbohydrates:
33
Fiber:
4
Protein:
36