Easy to make and great flavor.   I was able to make this in a spicy and non-spice version just by changing the mix for the slaw.
This a a combination of two great recipes I used for inspiration. Love the lime and cilantro. Had never baked shrimp before this dish. Was ridiculously easy and clean up was a snap.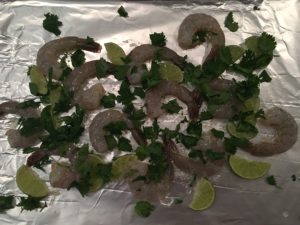 I did not have any avocados when I made this the first time.  Sliced avocado would give the tacos a great finish.  My mom is not a fan of spicy so I added some chipolte sauce – perfect!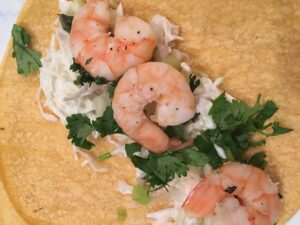 MyHealthyVegas Shrimp Tacos
MyHealthyVegas:
MyHealthyVegas
Ingredients
Sheet-pan lime and cilantro shrimp
12 large raw shrimp, deveined, shelled
1 tbsp olive oil
¼ cup chopped cilantro leaves, stems removed
Kosher salt and black pepper to taste
crushed garlic to taste (1 clove)
1 lime sliced
½ squeezed fresh lime
Taco assembly
4 8-inch corn tortillas
2 green onions diced
1 cup angel hair slaw (cabbage)
¼ chopped cilantro leaves, stems removed
¼ cup no fat sour cream
½ squeezed fresh lime
Instructions
Preheat oven to 375 degrees
Arrange sliced limes on non-stick or sprayed baking sheet
Mix oil, salt, pepper, garlic and squeezed lime in small bowl
Place shrimp in a small plastic bag or bowl
Add oil mixer and coat shrimp well
Pour shrimp onto baking sheet and arrange so they are all laying flat
Sprinkle cilantro over shrimp and lime slices
Bake for 10 minutes until shrimp curls and is opaque and oil is bubbling(depends on size of shrimp)
While shrimp is baking, mix slaw with squeezed lime and sour cream
When shrimp is done baking remove from oven and begin assembly of tacos
Place two warmed tortillas on each plate (either warm in skillet or in microwave)
Divide slaw mixture among the four tortillas creating a slaw bed for the shrimp
Place three shrimp on each tortilla (remove tails if necessary)
Divide green onions and cilantro among the four tortillas
If you want some heat, you can either add it directly to the slaw mixture or to the individual taco.
Notes
Weight Watcher® Disclaimer: I calculate nutritional facts and PointsPlus Values for all my recipes for informational purposes only. This is not an endorsement, sponsorship or approval of any of my recipes by Weight Watchers International, Inc., the owner of the WEIGHT WATCHERS and Points Plus trademarks.

Recipe by MyHealthyVegas. Please do not post or reprint this recipe without my permission. If you'd like to feature this recipe on your site, please rewrite the method of preparation and link to this post as the original source.
My Recipe Inspiration: one-pan cilantro-lime shrimp and also spicy shrimp tacos with garlic cilantro lime slaw
I adapted the recipes above to suit my tastes and availability of ingredients in my area.