A friend of mine told me how she makes ceviche for her husband each week.  She says he is wimpy because he prefers cooked shrimp in his ceviche.  I am with him on that one!   For making this at home I use frozen cooked, shelled and deveined shrimp.
For the record, I do love fresh ceviche made from 'just caught on the boat today' ingredients prepared by the always handsome on board chef.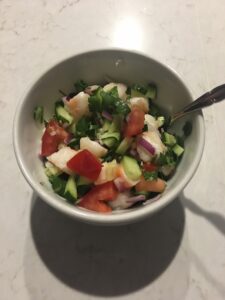 MyHealthyVegas Shrimp Ceviche
Easy make ahead snack or lunch perfect for meal prepping on the WW Blue plan.
MyHealthyVegas:
MyHealthyVegas
Ingredients
• 24 medium cooked shrimps, coarsely chopped
• ¼ cup diced red onion
• 1 diced tomato with seeds removed
• ½ hot house cucumber, peeled and diced
• ¼ cup finely diced cilantro
• 1 finely diced, seeded jalapeno pepper
• ¼ cup of lime juice
• ⅛ tsp Kosher salt
• ⅛ tsp black pepper
Instructions
Combine first six ingredients in a bowl.
Drizzle lime juice over mixture and stir well to combine lime juice.
Sprinkle salt and pepper over mixture and stir.
Chill in refrigerator for 30 mins.
Notes
Recipe by MyHealthyVegas. Please do not reprint this recipe without my permission. If you'd like to feature this recipe on your site, please rewrite the method of preparation and link to this post as the original source.