I have been experimenting with this recipe for years now.   I found this really interesting  7-grain flatbread pizza crust at Sprouts recently.   Here is my latest adaptation of MHV Shrimp & Asparagus Flatbread Pizza.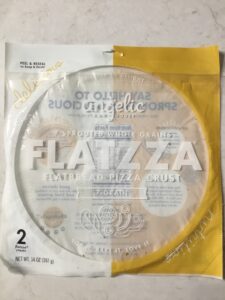 Same assembly of ingredients as my original pizza.   The package has two crusts in it and you can refrigerate once opened.  This flatbread requires no pre-cook like the Pillsbury version.    Ready to head to the 400 degree oven topped with The Laughing Cow cheese, cooked shrimp, green onion, asparagus, fresh basil from my garden and Parmesan cheese.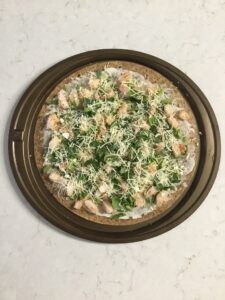 Crust instructions said to cook till ingredients melt and crust is to your liking.  I found that 10 mins was a bit long so the second crust I cooked for 8 mins but it depends also on your oven.  A drizzle of balsamic glaze and it is ready to slice and serve.   I refrigerated the extra slices and warmed them up slowly in the toaster oven for repeat meals.  A serving is 1/4 of the pizza.
MyHealthyVegas Shrimp & Asparagus Flatbread Pizza
The latest revision of my shrimp and asparagus pizza.
MyHealthyVegas:
MyHealthyVegas
Ingredients
12 medium size frozen raw shrimp, peeled, tails removed, deveined
4 wedges The Laughing Cow® Light Creamy Swiss cheese
¼ c shredded Parmesan cheese
1 12" Flatzza 7-grain flatbread pizza crust
18 baby asparagus tips and stems, cut at an angle
6 chopped green onions
Handful of fresh chopped sweet basil from the garden
Balsamic vinegar glaze for serving
Instructions
Preheat oven to 400 degrees. Spray a baking sheet with nonstick spray or line with nonstick aluminum foil.
Bring a skillet sprayed with nonstick spray to medium heat. Add shrimp and season with grilled shrimp seasoning*. Stir until shrimp is cooked through, about 4 minutes. Remove from skillet and set aside.
Add cut asparagus tips to skillet after shrimp is removed. Stir and cook for 4 minutes. Remove from skillet, chop shrimp and set aside.
In a small bowl, combine cheese wedges and parmesan cheese. Mix until uniform.
Place flatbread on prepared baking sheet.
Spread cheese mixture over top of pizza, leaving a ½-inch border. Top with chopped shrimp, green onions, fresh basil and asparagus. (Extra Parmesan can be sprinkled on top)
Place baking sheet into oven and bake until hot and lightly browned, 8-10 minutes. Check pizza after 8 minutes and adjust time accordingly.
Remove baked pizza and slice into 8 slices (4 servings).
Drizzle balsamic vinegar glaze over top of pizza and serve. Leftovers will refrigerate for 2 days. You can refrigerate with or without the glaze on.
*Grilled Shrimp Seasoning –
½ tsp kosher salt
¼ tsp garlic powder
¼ tsp onion powder
¼ tsp ground black pepper
¼ tsp chili powder
¼ tsp granulated sugar
/8 tsp cayenne pepper
dash of ground allspice
Notes
Recipe by MyHealthyVegas. Please do not post or reprint this recipe without my permission. If you'd like to feature this recipe on your site, please rewrite the method of preparation and link to this post as the original source.